Your Salmon and Halibut
Fishing Source!

A few days on the water, fish on your line, the best salmon fishing in the world, one of the most majestic place on earth, and 50 lbs a day guaranteed!



Have you always wanted to catch a fish you'll remember forever? Have you plunked down your cash for a trip that didn't deliver? Then it's time to head to the west coast of Vancouver Island.

Welcome to Ucluelet, British Columbia! More salmon and halibut swim by our front door than just about any place on earth. Here you can catch some of the millions of salmon returning to spawn in the Columbia, Fraser, local Stamp River system, and hundreds of other rivers and streams from California to British Columbia, every year. Ucluelet's waters swarm with giant schools of herring, pilchard, needlefish, and squid. Close behind them are whale, salmon, and halibut gorging themselves to fatten up for the winter.

Top 8 Questions to Ask

BC Fishing Resort Comparison

Our fishing packages give you world class fishing, choice of ocean view accommodation, vacuum packing, and good eating fora great value compared to fishing resorts. Whether you want to fish for a couple days with your kids, or need a five-star getaway complete with breathtaking accommodation and a spa experience, we have it all! Read more about how we compare to BC fishing resorts here with out paying the price.
Experienced

Fishing Guides Most of Salmon Eye's captains have been guiding for 15+ years and combined have over 60 years guiding experience. With these thousands of hours of experience, our guides will get you to the right spot, at the right time, with the right equipment. Heard stories of perfect fishing trips? Why not have one of your own? Learn more about our fishing guides here.

Read More about our Guides
Sea for

Yourself Real Fish Stories and photos. Check out the fishing picture blog from past summers, as well as fishing videos and testimonials from our past guests. No matter which fishing resort you've fished before, we're sure you'll be
impressed.

You won't find better salmon and halibut fishing anywhere! Also, look at your choice of sport fishing boats, and consider the Salmon Eye 50lb Guarantee, our assurance that you are booking the right trip. We care about your business!

Look at our Historical Picture Blog


Testimonials

Our customers about us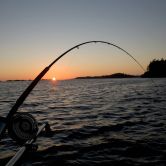 Thanks for a great fishing trip! Ray was fun to be with and a very knowledgeable and experienced fishing guide. He was a huge help while I was bringing in the BIG salmon. The overnight accomodations you arranged were great. When not fishing, we really enjoyed walking the Wild Pacific Trail, browsing the little shops, and sampling the restaurants. We look forward to our next fishing trip with you next summer! Thanks again.
Marilyn Moses, Tacoma Washington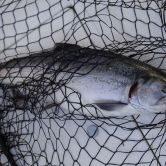 Sam, thanks for the incredible fishing! I've been fishing for thirty nine years and have never had such a great trip! It was quite a thing to see our group of twelve (three boats, three excellent skippers) all limited by 10am on Silvers and Kings two days in a row. I'll be back!
Jon Unger, Seattle Washington
Salmon Eye Charters is
Recommended

Salmon Eye Charters is recommended by USA Today Travel, Cruise America and New York Times Best Selling author Peter Greenburg in his book The Unlimited Insiders Guide to the Greatest Experiences around the world


Closer

Than You Think


Drive from Seattle to Ucluelet in 8 hours or less and Vancouver from 5 hours. On the scenic highway to Vancouver Island's west coast, you'll enjoy stunning natural beauty, such as giant fir trees seeded long before Columbus started for the New World and spruce trees towering hundreds of feet overhead. Don't forget your camera! Fly from across the US or Canada and be here all in a day. Read more about getting to Ucluelet.


Salmon Eye Charters

Latest News

Latest

Fishing Reports