Fishing Report


May 21, 2014
Chinook Salmon Fishing:
As forecasted the Chinook are starting to show up in very good numbers. The past few years Chinook fishing has been pretty good, but now it is just going bonkers, literally. We have been getting them in the 10-25lb range as expected and we think this is just the start. To tell you how good it is, the commercial fleet is usually given just a few days opening each year but this year they have been going for a couple months and there are no signs of closing. There are fish for everyone and this town is buzzing with all the good numbers of Chinook coming back. The usual suspects are working. 3-3.5 inch Coyote and Silver Horde Spoons from 80-120 feet down. Green and Blue colors are very consistent here and again are working. Glow needlefish hootchies are working as well. Great Bear, Sail Rock and South Bank are all producing well.
Halibut Fishing
Halibut are also showing up in good numbers and this is the best early season halibut fishing we have seen in quite some time. We are mostly bottom bouncing for halibut and action has been good.
Check out our early season fishing packages for good deals. Chinook are close to shore and this means you get a better deal!
Here are some pics of the past week:
Sonny and Julie Barby May 14, 2014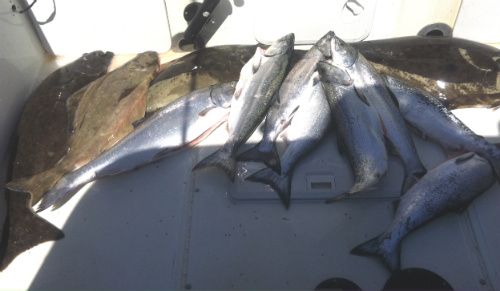 Fish only picture May 15, 2014
Guide Dan with a 60lb halibut
Friends Ryan, Dave, Dan and Travis May 18, 2014